Putting Personality Type Preferences to Work
Written by Shawn Bakker
If you had to identify the ideal leader, who would you choose? In our survey on leadership in the Canadian workplace, "Feuding and Failure vs. Performance and Innovation," we asked respondents who they thought would make the ideal leader for their organization. The four options were based on temperament, a style that can be identified using the MBTI instrument by focusing on the following personality type preference.
NF – someone who is democratic and involved, and focuses on working with and through people

NT – someone who is pragmatic and analytical, and focuses on creating far-reaching and comprehensive plans

SJ – someone who is thorough and orderly, and focuses on organizational stability and consolidating systems

SP – someone who is practical, focuses on concrete problems and does whatever it takes to solve them
Overwhelmingly, respondents identified the NF leadership style as the ideal for their organization, with 67% choosing this option. The person-focused style of NF leaders who try to bring personal meaning and value to work is highly prized by those working in human resources and consulting.
The other three temperament groups were selected much less frequently. NT leaders, who adopt a strategic, long-range focus, were seen as the ideal leader by 13% of respondents. SP leaders, who like to tackle problems resourcefully and have a timely cleverness, were seen as ideal by 11% of respondents. Leaders with an SJ temperament, who tend to be traditional and act as a stabilizing force on their organization, were seen as ideal by 7% of those who completed the survey.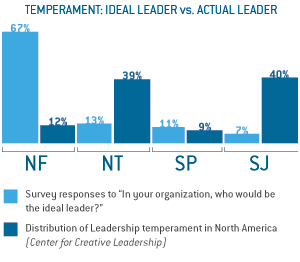 So what does this mean? It certainly highlights a key difference between today's leaders and what HR professionals and consultants see as ideal. Forty per cent of people in leadership roles today are described as being thorough, orderly and focused on organizational stability and consolidating systems, the SJ temperament. Thirty-nine percent of leaders have a style that is pragmatic and analytical, and focuses on the development of long-range comprehensive plans, the NT temperament. Twelve per cent of today's leaders are democratic and involved and act as personal catalysts, the NF temperament. The remaining nine per cent can be described as spontaneous and resourceful troubleshooters, the SP temperament (Center for Creative Leadership sample of 26,477 leaders).
You can use this information to your advantage by learning to communicate more effectively with leaders who have different temperaments. To increase buy-in for your ideas, provide the kind of information that leaders value and present it in a way that allows them to best evaluate your proposal. Here are some tips on what leaders of each temperament look for:
SJ – factual data that is organized step by step
SP – data from their immediate environment that allows them to respond to current issues
NT – information that gives the big picture and that focuses on future opportunities

NF – information that focuses on the big picture and translates it into the possibilities for people
Regardless of the issue, you can adjust your communication to fit each temperament. Remember, if you are unable to describe the problem or idea in a way that better fits each of the temperaments, it may not be a good idea in the first place. By preparing to communicate effectively with leaders of each temperament you will also cover the important bases for making a decision: What is important now? What are the future implications and possibilities? What are the pros and cons? How will it affect people?